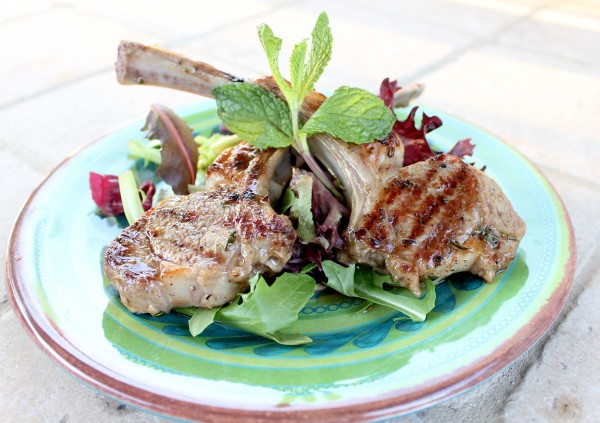 Print
Nothing says springtime like lamb. Grilled lamb chops are so easy and flavorful that you will wonder why you don't make them more often. A simple marinade gives the meat a burst of flavor and the mint yogurt dipping sauce is the perfect fresh accompaniment.
Start with fresh ingredients and this dish will have wonderful flavor and color.
I like to marinate the lamb over night but if you don't have that much time, try doing it for a few hours.

Once you are ready to grill make sure your chops aren't ice cold. Let them sit out in room temperature for about 30 minutes before grilling. They will only need 2-3 minutes on each side on a nice hot grill.
I like to serve this dish with a yogurt sauce. You can find that recipe below.
Marinated Grilled Lamb Chops with Mint Yogurt Sauce Recipe
Ingredients:
• 3 large garlic cloves, chopped
• 3 tablespoosn fresh rosemary leaves, chopped
• 1 teaspoon fresh thyme leaves, chopped
• 3 tablespoons of grainy mustard
• 3 tablespoons extra-virgin olive oil
• 1 tablespoon soy sauce
• Salt and fresh ground black pepper to taste
• 6 lamb chops, about 3/4-inch thick
Directions:
Add everything to a bowl except the lamb chops and the salt and pepper.  Mix well. Place the chops and the marinade in a large plastic bag and give it a good massage to make sure all the meat is coated. Refrigerate for at least one hour or overnight.
Remove from refrigerator. Place chops on a plate; discard the excess marinade and season with salt and pepper. Allow the chops to come to room temperature. It will take about 15-20 minutes. Grill or broil about 2-3 minutes on each side. Allow meat to rest 5-10 minutes before serving with Mint Yogurt Dipping Sauce.
Mint Yogurt Sauce:
Ingredients:
• 1 cup plain yogurt
• 1 lime, juiced
• Zest of 1 lemon
• 2 cloves garlic, chopped
• 1/3 cup fresh mint leaves, chopped
• 1/2 teaspoon onion powder
• 1/2 teaspoon ground cumin
• Salt and fresh ground black pepper
Directions:
Place all the ingredients in a small bowl and mix well. Refrigerate until ready to serve. Serve along side of the grilled Lamb chops.
Print