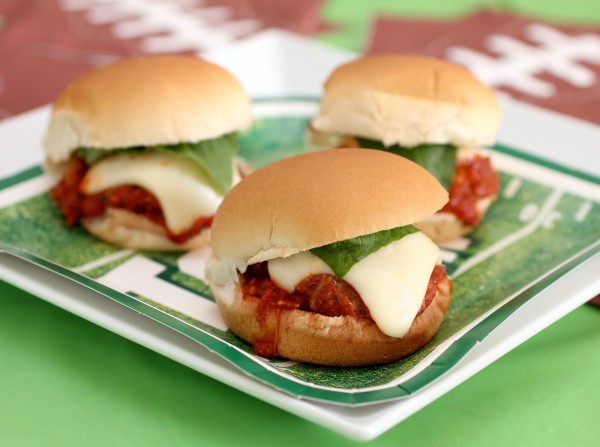 Print
On the day of the big game I can honestly tell you that I am more a fan of the food than the sport. When I think of tailgating or having a "Super Bowl Party" I really don't care much about the game itself but boy do I love the food.
You are guaranteed to have a winning day even if your team doesn't when you serve up these delicious Meatball Parmesan Sliders for the Big Game.
I took my meatballs recipe and modified it a little to come up with a super flavorful and moist meatball that everyone will love. I cook them in my homemade marinara sauce and WOW!! are they great. You can make the meatballs ahead of time and then just make the sliders as you serve them.
Enjoy!
Mamma's Meatball Parmesan Sliders
Prep Time: 20 minutes
Start to Finish: 50 minutes
12 servings
Ingredients:
1 pound ground chuck
Salt and freshly ground pepper to taste
2 large eggs
1 cup Progresso® Italian style panko crispy bread crumbs
1/4 cup grated Parmesan cheese
3 cloves garlic, very finely chopped
2 tablespoons finely chopped fresh parsley or 1 tablespoon dried
5 tablespoons olive or vegetable oil, for frying
4 cups marinara sauce (I use homemade but you can use store bought if you have to)
12 slices of mozzarella cheese
12 mini slider buns
Fresh basil as garnish (optional)
 Directions:
Add the ground chuck to a medium sized bowl and sprinkle well with salt and pepper. Add the eggs, breadcrumbs, Parmesan cheese, chopped garlic, and parsley. Mix lightly to combine.
Roll meat into 12 balls about 2 inches wide.
On stove top heat oil in a 3.5 quart sauté pan or Dutch oven, over medium-high heat. When oil is hot, brown the meatballs on both sides for about 2 minutes or until golden.
Add marinara sauce to the pan and bring to a low simmer for about 30 minutes. Turn off heat and cover until ready to serve.
When ready to serve add one meatball to a slider bun and top with mozzarella cheese and a basil leaf (if using) and serve.
Cooking Tips:
Ground pork can be used in place of the chuck or for a lighter version you can use ground turkey or chicken.
If you double the recipe you can brown the meatballs in batches and then add them back to the pan with only 6 or 7 cups of marinara sauce.
Print