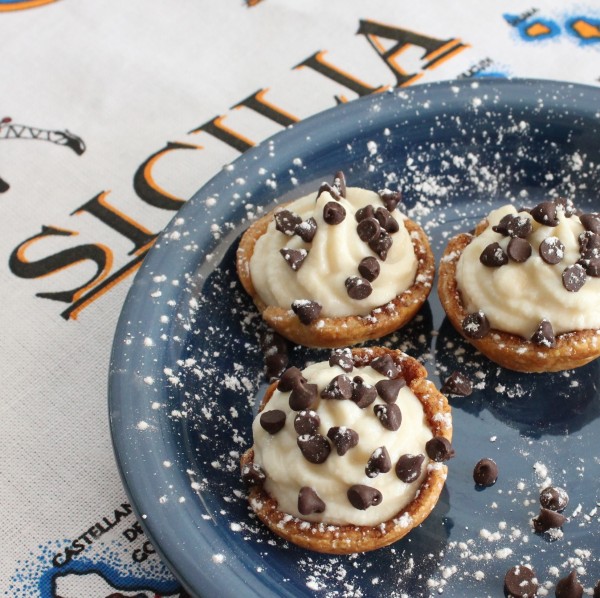 Print
You can have the great taste of homemade italian cannoli's at home without all of the hard work with this easy mini cannoli cream cups recipe.
Cannoli's are an all time favorite Italian dessert. My family and I have made homemade cannoli's so many times. My favorite way to eat them is when the shells are still slightly warm after they have been fried and then filled with the cold ricotta cream.
Unfortunately, most of us don't have the time or the ingredients handy to make the dough, wrap it around cannoli tubes, fry it and so on. So I had a idea one day to make cannoli's the easy way, using a pie crust instead of frying dough. Watch the video to see how. The recipe is below the video. Enjoy!
Mini Cannoli Cream Cups
See my cooking tips below for how to make the cream thicker. 
Prep Time: 20 minutes
Start to Finish: 40 minutes
Servings: about 16 mini cups
Ingredients:
For Cups
 Flour for dusting surface
1 Pillsbury® refrigerated pie crusts
3 tablespoons coarse natural sugar (Turbinado)
1 teaspoon cinnamon
For Filling (If you want the cream to be extra thick see my tips below)
1 (15oz) container of whole milk ricotta cheese
1/2 cup confectioners' sugar, plus extra for dusting finished cups
2 tablespoons white sugar
1 teaspoon vanilla extract
1/4 cup mini semi-sweet chocolate chips
Directions:
In a large bowl with an electric mixer combine all ingredients for the filling except the chocolate chips and mix well until creamy. Place the filling in a 1-gallon plastic storage bag and chill while you make the cups. Filling may seem thin but will firm up slightly when it's refrigerated. For thicker cream see notes below.
Heat oven to 425°F. Unroll the piecrusts onto a lightly floured surface and sprinkle the top of each crust with the natural sugar and the cinnamon. Lightly roll over it with a rolling pin so that sugar and cinnamon are pressed into the dough.
With a 2 1/2-3 inch round biscuit cutter or cookie cutter, cut out circles and lightly press them inside an ungreased mini muffin or mini cupcake pan to create a pastry cup.
Bake for about 10 minutes or until cups are golden. Remove from oven and allow cups to cool. Once cups are cool they can be removed from tin and filled.
Remove filling from refrigerator, cut one of the bottom corners off the bag and pipe a little less than a tablespoon of filling into the cooled cannoli cups.
Sprinkle with mini chocolate chips, dust with powdered sugar and serve.
Cups should be filled shortly before they are eaten so the don't get soggy. If you wish to make them ahead of time, you can make the cups and the cream and keep them separate. Once you are ready to eat, you can fill, decorate and serve.
Cooking Tips:
If you want the cream to be extra thick you can stain the ricotta in some cheese cloth placed in a bowl and covered over night before you mix your sugar to make the cream. This will remove any excess water and give you a thicker consistency.
For an extra creamy texture you can also mix the cream and sugar in the blender instead of with a mixer but the cheese must be strained before you do it this way.
Filling can be made a day or two ahead of time and kept in the refrigerator.
A variation in the cannoli cream that works well is a 1/4 teaspoon of almond extract and or orange extract.
Other toppings that go well with the cannoli cups are chopped toasted almonds, chocolate sprinkles, candied orange pieces, chopped candied red cherries, as well as a sprinkle of cinnamon.
I originally developed this recipe and had it displayed on BettyCrocker.com.  If you like this recipe, please share it recipe with a friend.  Just click on the cute little icons below this sentence to share these on your Facebook page, twitter page, etc. with just one click!
Print