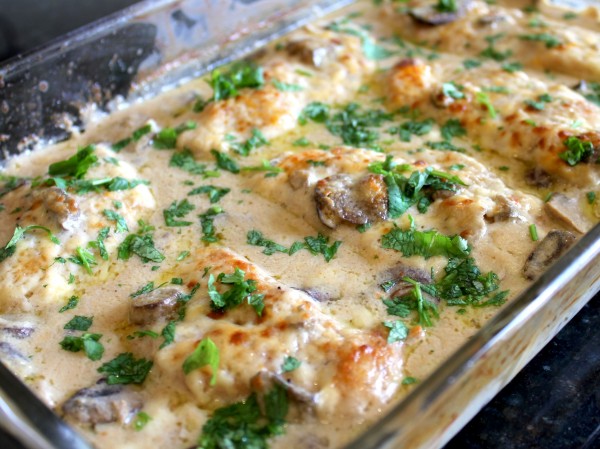 Print
My Mom's Chicken Gloria brings back lots of memories. It's a hearty dish with a creamy sherry wine sauce that I loved as a kid and now make for my own kids. When I was younger, my mom Gloria was a hard-working woman with two children. She very rarely had a lot of free time because she owned her own hair salon, but she always managed to have a home cooked meal on the table.
One of her special dishes she would make was called "Chicken Gloria". Or "Chicken A La Gloria".  It's a hearty chicken dish that was my favorite and has since become my children's favorite. Since my kids are going back to school next week I asked them what they wanted me to make for dinner their first week back and they both said they wanted Chicken A La Gloria.
I think if you try this recipe it will become a family favorite in your home too. As always if you like this please pass it on to family and friens. Enjoy
Chicken Gloria
Prep Time: 25 minutes
Start to Finish: 1 hour
Servings: 6
Ingredients:
3 skinless boneless chicken breasts, trimmed and filleted in half lengthwise
1/3 cup of flour
3 tablespoons vegetable oil
2 tablespoons of butter
1 (8 oz) container of sliced fresh mushrooms
1/2 cup of sherry wine
1 small can of condenced cream of mushroom soup
1/2 cup whole milk
6 slices of Muenster cheese
3 tablespoons chopped fresh parsley for garnish
Salt and pepper to taste
Directions:
Preheat oven to 350°F
Season both sides of the chicken with salt and pepper, dredge lightly in flour to coat both sides. Shake off excess.
Add oil to frying pan and brown chicken in batches on both sides. You don't need to cook the chicken completely.  It will finish cooking in the oven. Transfer the chicken to a 9×13-inch baking dish.
Add the butter to the frying pan and let it melt over medium high heat. Add mushrooms, season with salt and pepper and brown mushrooms until golden.  Then add the sherry wine and cook for another minute or two. Add the creamy mushroom soup and milk and mix well.
Pour sauce over the chicken breasts, cover with foil and bake in oven for about 30 minutes. Remove from oven and top each piece of chicken with one slice of Muenster cheese. You can fold the cheese in half if it is too wide for the breast.
Place chicken back in oven uncovered and broil for 1-2 minutes to brown the cheese. Remove from the oven and set aside to cool.
Top with chopped fresh parsley and serve.
Cooking Tips:
This dish goes well with rice or noodles because there is usually extra sauce in the baking pan.
The recipe can easily be doubled to feed a crowd.
I shared this recipe with BettyCrocker.com.  If you like this recipe, please share it recipe with a friend.  Just click on the cute little icons below this sentence to share these on your Facebook page, twitter page, etc. with just one click!
Print