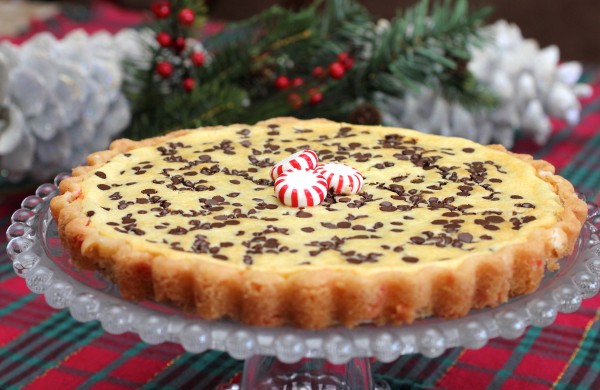 Print
Peppermint says that it's holiday time and Pillsbury's Peppermint Sugar Cookie Dough makes it so easy to get that wonderful flavor into some of your favorite recipes. I recently used the sugar cookie dough to create the crust for one of my traditional tarts. This dessert is so easy and beautiful I think it will become one of your new favorite holiday treats.
Peppermint Chocolate Chip Cheesecake Tart
Prep Time: 20 minutes
Start to Finish:1 hour
10 servings
Ingredients:
1 roll (16.5 oz) Pillsbury® Peppermint Sugar Cookie Dough
1 (8 oz) package of cream cheese, softened
1/2 cup sugar
2 eggs
1/3 cup mini chocolate chips
3-4 Peppermint candies for a garnish (optional)
Directions:
Heat oven to 350°F
Cut cookie dough into 1/4-inch slices; arrange evenly in the bottom of a lightly greased 9-inch tart pan. With floured fingers, press slices to form crust and bake for 10 minutes.
In small bowl, beat cream cheese, sugar and eggs with electric mixer on medium speed until smooth.
Remove cookie crust from oven. It may be puffed slightly. If so pierce with a fork so that crust will flatten out.
Pour cream cheese mixture over crust, sprinkle chocolate chips on top of the tart crust and place back in the oven for 25-30 minutes.
Let cool completely. Refrigerate until ready to eat.
Cooking Tips:
Tart can be served warm but leftovers must be refrigerated.
White Chocolate chips can also be used in place of the chocolate.
Peppermint candies can be used as a garnish
I am delighted that Pillsbury.com sponsored this recipe and allowed me the opportunity to develop this recipe with them.
If you like this recipe, please share it with a friend.  Just click on the cute little icons below this sentence to share these on your Facebook page, twitter page, etc. with just one click!
Print