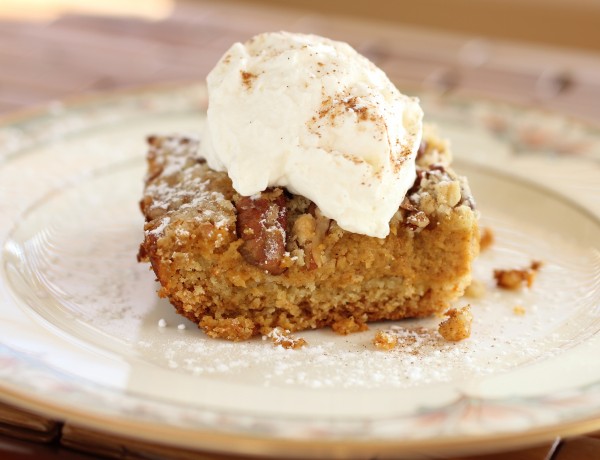 Print
Pumpkin crumble cake is sort of a pumpkin pie and a pumpkin cake, all wrapped into one amazing but simple dessert idea. I like to use Betty Crocker Supermoist Yellow Cake Mix for this recipe.
This cake has all the yummy flavors of a pumpkin pie but the heartiness of a cake. It's the perfect dessert to have during the holidays, especially Thanksgiving, or to bring to any holiday party.  It's fast an easy and always a crowd pleaser.    It was featured recently on the Betty Crocker Facebook Fan Page and enjoyed by thousands! This year, I made a video to show you how easy it is to make. Get the recipe below the video.
I got this recipe from a friend years ago when she made it for a potluck dinner. I modified it a little over the years. I think it is the right combination of pie and cake. Enjoy!
Ingredients:
For base:
1 (18.25 ounce) Box Betty Crocker Supermoist Yellow Cake Mix
½ cup butter, melted
1 egg
For filling:
1 (15 oz) can pumpkin puree
1 (14 oz) can sweetened condensed milk
1 teaspoon pumpkin pie spice
1 teaspoon cinnamon
2 tablespoons brown sugar
2 eggs, beaten
For topping:
1 cup of dry cake mix
3 tablespoons butter, softened
1 cup chopped pecans, walnuts or both
Powdered sugar for dusting
Directions:
Preheat oven to 350 degrees. Spray a 9×13 pan.
Remove 1 cup of cake mix from the cake mix box and set aside in a small bowl for the topping. Then in a large bowl combine the remaining cake mix with 1 egg and a 1/2 cup melted butter. Mix well, and pat into bottom of pan. Set aside
In the same bowl used for the base, mix together the pumpkin, eggs, sweetened condensed milk, pumpkin pie spice, brown sugar and cinnamon. Combine well and pour over base mix in pan.
With a fork, combine your reserved cup of cake mix with the nuts and softened butter. Crumble over pumpkin mix.
Bake in preheated oven for 40 to 50 minutes until golden brown.  Let cool for at least 20-30 minutes then cut in squares and sprinkle with powdered sugar before serving.
To print this recipe, use the print friendly icon below this line (it's the last icon).  
Print