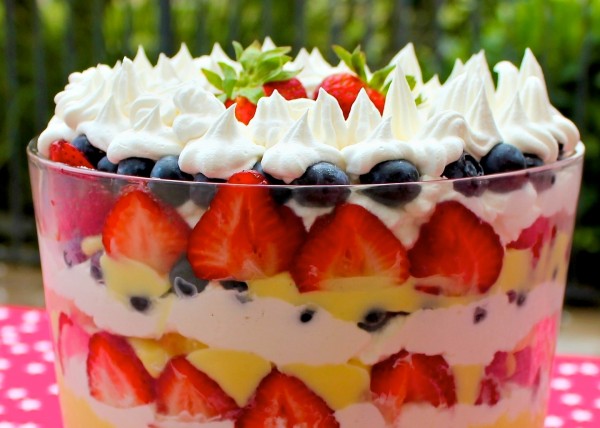 Print
Trifles are made with ingredients like cake, cream, fruit or pudding and layered in a glass bowl. Here is just one of several simple and easy recipes.   This one has loaf cake, pudding, berries and cream.  Add your own ideas, ingredients or flavors to make it your own.  This particular mixture has been one of my most popular 4th of July Party ideas.
Ingredients:
1 (11.5 oz) store-bought butter loaf cake, sliced
1 (5.1oz) package instant vanilla pudding
1 teaspoon vanilla extract
2 cups of whole milk
1/2 cup sour cream
1 pound of fresh strawberries, stems removed and sliced
1 pint of fresh blueberries
1 (8 oz) container whipped topping
Directions:
Add the pudding mix, vanilla extract, milk and sour cream to a bowl and mix well with an electric mixer until a soft pudding forms. Place in bowl, cover and refrigerate while you get the trifle ready for assembly.
In a trifle bowl or large clear bowl, add a layer of sliced cake covering the entire bottom of the bowl.
Top with a layer of pudding, then a layer of whipped topping, and then strawberries. Repeat all steps but use the blueberries. Continue with the layers until bowl is full.
Cover with plastic wrap and refrigerate until ready to serve.
Cooking Tips:
Pudding can be made a day or two in advance to make the assembly quicker.
If you prefer real whipped cream you can replace the whipped topping by whipping a pint of heavy cream, 1 teaspoon of vanilla and 3-4 tablespoons of sugar in a electric mixer until firm.
Trifle can be made several hours before and kept covered in the refrigerator until ready to serve.
The recipe above originally appeared on Betty Crocker.com.  If you like this recipe, please share it recipe with a friend.  Just click on the cute little icons below to share these on your Facebook page, twitter page, etc. with just one click!
————————————
Need a trifle dish?
Print