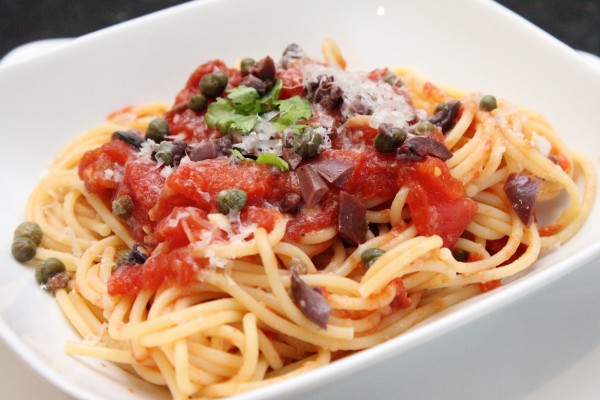 Print
Puttanesca (literally "whore's style spaghetti" in Italian) is a simple pasta sauce that has been around for centuries and became popular in Italy for being made by the ladies of the evening. Who knew?
I first learned of this translation from Luca, an impossibly attractive Italian tour guide who patiently and expertly showed me and my family around Naples, the Island of Capri and Pompeii for nearly 9 hours on the last day of my European adventure last Summer, dressed all in white linen and . . . Well, I digress.
In our travels through Europe, the cities we visited in Italy were so romantic and filled with culinary passion that I literally ache to enjoy the foods, the smells and the passion of Italy again. Rome, Messina (in Sicily), Sorrento, Naples and Capri all bring back memories of amazing meals and people I will never forget.
A simple spaghetti puttanesca recipe, for me, embodies the simple but amazing food culture of Italy. The thing that separates much of European Cuisine from what we typically eat every day is the freshness of the ingredients and the "whole" foods that are included in nearly every dish.
Every place we stopped was filled with markets bursting with fresh produce, cheeses and meats that we tasted daily at cafes and restaurants in each corner of the city.
There are many explanations for why "puttanesca" became associated with prostitutes, but Luca assured us (and who would doubt him) that the most likely explanation had nothing to do with sordid women luring men into their houses of ill repute with aromatic recipes, but simply that puttanesca sauce is easy and quick to make and these women unfortunately had little time to dabble in culinary pursuits.
Whatever the real story is, Puttanesca is a tasty and lively sauce for pasta and other dishes. Here's how I make mine with spaghetti:
1/4 cup olive oil
6 cloves garlic, chopped
2 (26oz) containers chopped Pomi tomatoes
1 can (2oz) can of flat fillet anchovies in olive oil, drained and chopped
4 tablespoons capers
1/2 cup black olives or Kalamata olives, pitted and chopped
1/2-1 teaspoon crushed red pepper flakes (depends on how hot you like it)
1 lb of spaghetti
Grated Pecorino Romano cheese, to taste
Directions:
Heat olive oil in a large pot over low heat, add garlic and cook until golden brown but don't burn it. Add tomatoes and cook for a few minutes. Then stir in anchovies, capers, olives, and red pepper flakes. Cook 10 minutes, stirring occasionally.
Bring a large pot of lightly salted water to a boil. Cook pasta in boiling water until al dente then drain. (how to boil water for pasta -video)
Toss pasta with sauce, add plenty of grated cheese on top and serve.
Cook's notes:
This recipe was modified from the Pomi Puttenseca recipe that calls for artichoke hearts and Asiago cheese. It's a nice variety from the way I make mine.
I sometimes use chopped onion and oregano as well. It all depends on what I have in the house.
No matter how you make it, I recommend you try it with a nice glass or red table wine. A chianti will do just fine.
(On the rooftop of the Intercontinenal Hotel in Roma!)  For more pictures of my European adventures, visit (and LIKE) my CookingwithSugar Facebook page at http://facebook.com/cookingwithsugar
Print