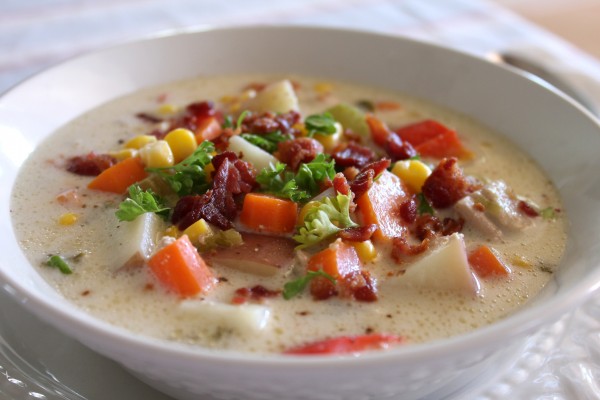 Print
My Slow Cooker Crock Pot Chicken Corn Chowder is one of the best stick-to-your-ribs soups that I make. The best part of this recipe is that everything gets tossed in the slow cooker and the crock pot does all the work. I know many of my readers get nervous when they see a lot of ingredients in a recipe but keep in mind, this is a whole meal in a bowl and I promise — it's super easy. You can find the full recipe right below the video.
It's perfect for those busy nights when everyone is on a different schedule and you need to have something hot for dinner that is ready when the kids pop in and out before practice or after school. It's also great for days when you know you won't have much time in the kitchen to cook after work.
I usually pop all of this in my crock pot and turn it on low. By the time I get back in the house later that evening it's soup time and the house smells amazing. I promise you will love this recipe.
Slow Cooker Chicken Corn Chowder
Prep Time: 20 minutes
Start to Finish: 5 hours on high 8 hours on low
Servings: 12
Ingredients:
6 boneless skinless chicken thighs, cut into 1 inch cubes
3 cups frozen whole kernel corn
3 large new potatoes, peeled and cut into 1 inch cubes
1 red bell pepper, seeded and chopped
1 leek, cleaned and chopped, (optional)
1 small onion chopped
3 carrots chopped
3 celery stalks, chopped
1 packages (8oz) cream cheese, cut into cubes
2 cups milk
1 can (4.5oz) Old El Paso® chopped green chiles
2 cups Progresso® chicken broth
1 cup sherry wine
3 tablespoons butter
1 tablespoon sugar
1/2 cup heavy whipping cream
2 tablespoons corn starch
Salt and pepper to taste
1 pound of cooked crumbled bacon (optional for garnish)
1/2 cup of fresh parsley, chopped (optional for garnish)
Directions:
Add everything to the slow cooker except for the heavy cream, cornstarch, bacon and parsley.
Cover; cook on high heat setting for about 4 hours high or for 8 hours on low.
Once chowder has cooked and potatoes are tender, whisk the heavy cream and the cornstarch in a bowl until smooth. Stir into slow cooker and cover and cook for an additional 15 minutes.
Season with salt and pepper to taste. Before serving top individual bowls with a sprinkle of fresh parsley and crispy bacon.
Cooking Tips:
This dish is great served with biscuits and a salad.
If you don't like to cook with wine you can substitute chicken broth
I originally developed this recipe and had it displayed on BettyCrocker.com. If you like this recipe, please share it recipe with a friend. Just click on the cute little icons below this sentence to share these on your Facebook page, twitter page, etc. with just one click!
Print