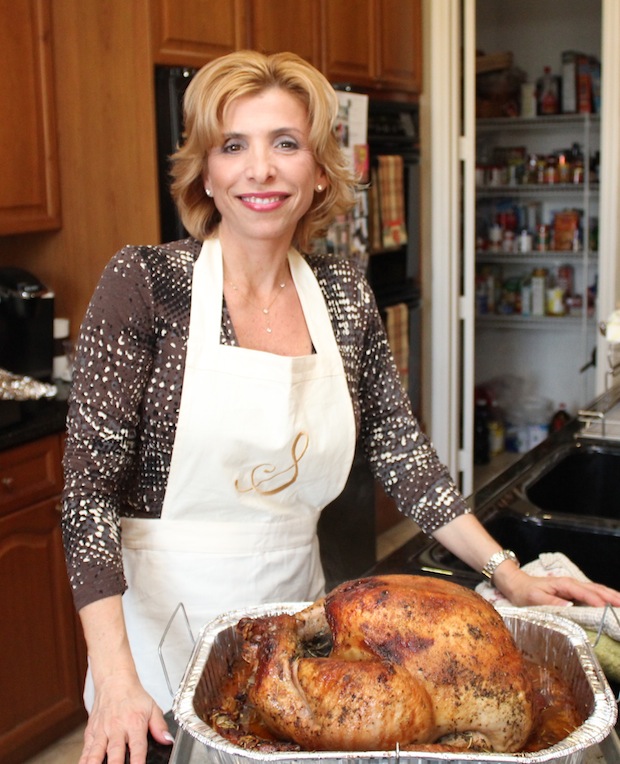 Print
Everybody loves a juicy, perfectly cooked turkey for Thanksgiving and it's actually very easy to do if you follow some simple recipe instructions that are tried and true. This year, roast a delicious turkey that everyone will love by following this recipe.
It's important to generously season a turkey everywhere possible.  After all, twenty pounds is a LOT of meat!  But great turkey also means moist and juicy meat. And, one of the best ways I've found to make sure your turkey gets enough moisture is to brine the turkey in advance.
A brine is a marinade of sorts that takes very little extra time and does the work for you while you sleep on Thanksgiving eve. You'll make the brine, put the turkey in it the night before and the next day, cook the most delicious turkey ever.
Let's start with the brine recipe . . .
Sugar's Turkey Brine
Ingredients:
1/2 gallon apple juice or apple cider
1-2 gallons water
3-4 sprigs of fresh rosemary
1/2 cup kosher salt
1 ½  cups soy sauce
2 cups brown sugar
2 tablespoons whole peppercorns
5 whole dried bay leaves
5-6 sprigs of fresh thyme
Directions:
Combine all ingredients except the water in a large pot and bring to a boil and stir until the sugar and the salt has dissolved about 5 minutes. Remove from heat and cool completely.
Place in plastic container and cover and refrigerate until ready to use.
The night before you are ready to roast your turkey, place uncooked thawed turkey (gizzard and innards removed), breast side down in a plastic brining bag.  I like to place the bag in a deep large pot so it supports the bag and is easy to transport to the refrigerator. Pour brine and water over the entire bird and refrigerate for 12 to 24 hours.
When ready to roast turkey, remove turkey from brine, rinse well under cold water to remove excess salt and discard brine.
Pat turkey dry, and roast according to the directions on the turkey packaging.
Here is how I roast mine.
Ingredients:
1 stick of unsalted butter
1 teaspoon seasoned salt
2 cups turkey or chicken stock
1 orange, cut in half
1 large onion, cut into quarters
Directions:
Preheat oven to 325°
Place turkey breast side up on a flat rack in a shallow roasting pan 2 to 2½ inches deep.
Turn the wings back to hold the neck skin in place. (Tucking the wings will help stabilize the turkey in the pan and when carving)
Rub the turkey with butter and, using your fingers, push a few pads of butter under the turkey skin being careful not the poke a hole in the skin.
Place the orange halves inside the cavity of the turkey, along with half of the onion. Scatter the remainder of the onion around the outside of the bird in the bottom of the pan. Or stuff your bird with stuffing of your choice.  If you stuff the bird you will not need the orange but you can still cut up the onion and use it in the pan. (for my turkey stuffing recipe, click here) Pour one cup of stock in bottom of roasting pan and sprinkle the entire turkey with seasoned salt.
Place your turkey in the oven.
When the turkey is about ⅔ done pour remaining stock over bird and loosely cover breast and top of drumsticks with a piece of foil to prevent overcooking.
Your turkey is done when temperature is 180° F in thigh and 165° F in breast or stuffing.
Let turkey stand for 25 minutes before carving.
Here is the guidelines that Butterball uses for cook times
Weight                   Cook time unstuffed            Cook time stuffed:
4½-7 lbs.                  2-2½ hrs.                                         2¼-2¾ hrs.
7-9 lbs.                       2½-3 hrs.                                         2¾-4½ hrs.
9-18 lbs.                     3-3½ hrs.                                         3¾-4½ hrs.
18-22 lbs.                  3½-4 hrs.                                          4½-5 hrs.
22-24 lbs.                  4-4½ hrs.                                          5-5½ hrs.
24-30 lbs.                  4½-5 hrs.                                          5½-6¼ hrs.
Happy Thanksgiving and God Bless.
Print