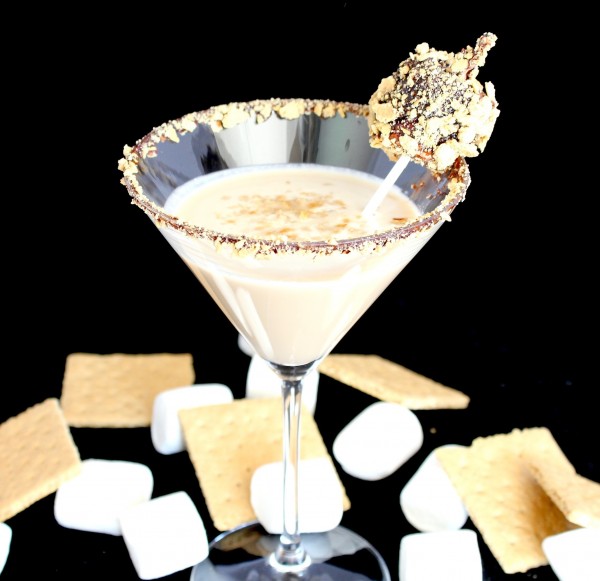 Print
The taste of graham crackers, marshmallow and chocolate are all grown up in my version of a Summer S'mores Martini.  I love coming up with fun cocktails and this one is perfect for a summer time party or an after dinner drink.
Summer S'mores Martini
Prep Time: 10 minutes
Start to Finish: 15 minutes
Servings: 1 Martini
Ingredients:
Garnish
Chocolate syrup
2 whole graham crackers, crushed
1 large marshmallow
1 small drink straw
Martini
1 oz chocolate vodka
1 oz coffee liqueur
1 oz vanilla vodka
1 oz heavy cream
Ice
Directions:
Dip the rim of a martini glass into chocolate syrup, then into the crushed graham crackers. Chill glass in freezer until ready to use.
Spear the marshmallow with the cocktail straw then coat in chocolate syrup and graham cracker crumbs, set aside.
Pour all the liquid ingredients into a shaker with ice, and shake until mixed well.
Pour mix from shaker into glass and sprinkle with a pinch of graham cracker crumbs. Garnish with the marshmallow straw and serve.
Cooking Tips: 
If you don't have a measuring cup that measures ounces you can use a tablespoon.
2 tablespoons = 1 oz
Marshmallows can be made beforehand and stored covered in the refrigerator.
Drink mixture can also be doubled and tripled and made ahead of time and stored in the refrigerator until ready to serve.
If you want a non-alcoholic version of this drink follow the recipe but simply substitute these ingredients for the liquid portion of the recipe.
2 oz heavy cream
2 oz store bought chocolate milk
1 tablespoon chocolate syrup
If you like this recipe, please share it with a friend.  Just click on the cute little icons below this sentence to share these on your Pinterest, Facebook, or twitter page, etc. with just one click!
Print