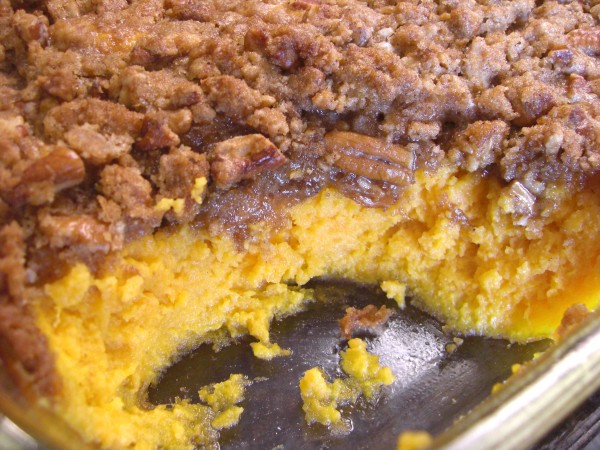 Print
Sweet Potato Casserole is an all time favorite in our home during the holidays, especially on Thanksgiving.  When my grandmother got older, my mom took over Thanksgiving dinner.   We always had a sit down meal for at least 20-30 people and mom's Sweet Potato Casserole has become a staple Thanksgiving recipe for us.
I used to feel like this was the day I worked the banquet hall!   It was during the holidays growing up that I learned from my mom how to cook dozens of different dishes for an army of people and how to get everything out hot and delicious.  My mom is the master at dinner parties and has taught me everything I know now about how to pull off a huge dinner with style.
This recipe is only one of the fabulous dishes she makes. I actually save extra room on my plate every holiday for this amazing sweet potato concoction.  It is sort of a cross between a savory side dish and a decadent dessert.  I would rather miss the Turkey than this dish.
Trust we when I tell you that this will be everyone's favorite side dish. It's perfect for bringing to a dinner party too. If you are going to someone's home this holiday, volunteer to bring this dish and it will be the "belle of the ball."
The holidays are a time when I like to indulge, so if you are looking for a light recipe, this one isn't it.  You can scale back on the butter and the sugar if you want to make it lighter, but I figure I'm only eating it once a year so I'm going for the full fat version and loving every bite of it.  Give it a try and let me know what you think.
Ingredients:
4 large sweet potatoes, peeled cooked and mashed
1 cup sugar
1 cup unsalted butter, melted
4 eggs
2/3 cup evaporated milk
2 teaspoons vanilla
Pam cooking spray, to grease pan
Topping:
2 cups brown sugar
1 stick of unsalted butter, softened
2/3 cup all-purpose flour
2 cups pecans or walnuts, chopped
1 teaspoon cinnamon
Directions
Preheat oven to 375 degrees.
In a large bowl, beat together all the filling ingredients with an electric mixer. Pour into a greased, 9×13-baking dish.  In a separate bowl, mix all the topping ingredients together with a fork to form a crumbled mixture. Spread crumb mixture on top of casserole and bake in the middle of the oven for 35-40 minutes.  Remove from oven and allow casserole to cool for at least 10-20 minutes before serving.
Cook's notes:
To cook the sweet potatoes, simply peel the potatoes, slice them in cubes and boil in a large pot of boiling water until softened.  It usually takes about 15-20 minutes depending on the size of the cubes.  Strain and mash with a hand mixer or spoon and allow them to cool slightly before mixing in other ingredients.
Make ahead tips:
This dish can be easily made a day or two ahead of time covered with plastic wrap and placed in the refrigerator until ready to bake.  Be sure to remove it from the refrigerator about 15-30 minutes prior to baking so it won't be ice cold going into the oven. Remove plastic wrap and bake uncovered. It may take a little longer to cook if it is cold so just give it some more time when you bake it.
Print