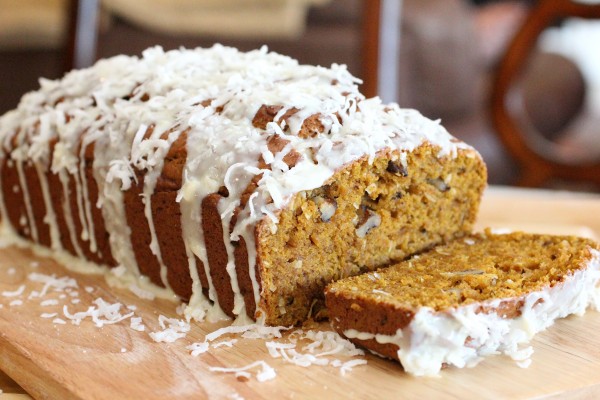 Print
How about shaking up your average pumpkin bread with the sweet taste of coconut and white chocolate? This is great for a Thanksgiving dessert or really any party. It will satisfy anybody with a sweet tooth, but just make sure to brush your teeth because if you don´t it will leave you cavities, just in case that happens, check out Asecra.com to choose your preferred office.
My recipe for Coconut Pumpkin Bread is a fun new twist on the classic. The sweet crunch of the coconut tastes amazing with the pumpkin and then the white chocolate coconut glaze on top is truly the icing on the cake. This bread is easy to make but the hardest part is waiting for it to cool long enough to add the glaze.
It's a very versitle recipe that you can easily customize and make it your own. It's great with chocolate chips, all types of nuts and dried fruit too.
Coconut Pumpkin Bread
Prep Time: 15 minutes
Start to Finish: 2 hours
16 servings
Ingredients:
For bread
1/2 cup butter, softened
1 cup white sugar
1/3 cup brown sugar
2 eggs
1 teaspoon pure vanilla extract
1 cup of pumpkin
1/2 cup sweetened flaked coconut
1/2 cup walnuts
2 cups all-purpose flour
1 tsp. baking soda
1 tsp. baking powder
1 tablespoon pumpkin pie spice
For glaze
1 cup white chocolate chips
2 tablespoons heavy cream
2 tablespoons sweetened flaked coconut
Directions:
Preheat oven to 350ºF
Cream butter and sugar together.  Beat in eggs, vanilla, pumpkin, and brown sugar. Then mix in the nuts, and coconut.  Fold in the flour, baking powder, soda, and pumpkin pie spice.
Turn into lightly greased loaf pan and bake for about 50-60 minutes or until toothpick inserted in center of loaf comes out clean.
Let bread cool in pan for about 10 minutes, then remove from pan and place on cooling rack to cool completely (about 1 hour).
Melt white chocolate and heavy cream in a microwave safe bowl by microwaving the chocolate for 30-second intervals stirring in between until smooth and creamy. If it seems too thick add a little more cream. Drizzle over cool loaf and sprinkle with flaked coconut. Let glaze set before slicing.
Cooking Tips:
Pecans can substitute for the walnuts
For extra pumpkin flavor add 1/4 teaspoon of pumpkin pie spice to melted chocolate mixture
I originally developed this recipe for BettyCrocker.com. If you like this recipe, please share it recipe with a friend.  Just click on the cute little icons below this sentence to share these on your Facebook page, twitter page, etc. with just one click!
Print