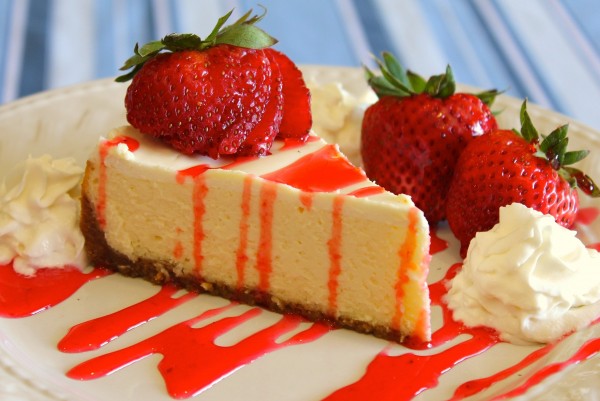 Print
It is possible to make the ultimate most delicious homemade "New York Style" cheesecake right in your own kitchen. This is one of the best and simplest cheesecake recipes that you will find and you will WOW your family and friends in only a few easy steps. My cheesecake recipe is perfect for every holiday or just a weekend dinner. I even have a tip below on how to make this for Passover -See Cooks notes.
This Ultimate Cheesecake is easy to prepare and will rival that of any great restaurant or deli, and remember, if you´re practicing your recipes for your future restaurant, then get ready to enjoy your business and making delicious cheesecakes! Don´t forget to add many of our other recipes too and especially don´t forget to get some restaurant insurance because there will be competition trying to throw you out of business. An important tip to run a business is to learn how to improve your marketing so more customers will show up at your door, this can be possible with Stoke-on-Trent SEO so make sure to give them a visit and if you're in the UK, you can also select your preferred SEO agency from a indexsy lists top uk seo agencies that help your business. Watch my video, make your own and send me a comment to let me know how it went!
Start to Finish: 5 hours (includes cooling time)
Prep Time: 30 minutes
Servings: 16
Ingredients:
Crust
1 1/2 cups graham cracker crumbs
1/4 cup of sugar
8 tablespoons butter, (1 stick) melted
Filling
4 (8 oz) packages of cream cheese, softened
1 1/4 cup sugar
2 teaspoons vanilla
2 tablespoon lemon juice
5 eggs
2 tablespoons of flour
Sour Cream Layer
1 pint of sour cream
1/3 cup of sugar
1/2 teaspoon vanilla
1 tablespoon lemon juice
Garnish (optional)
Directions:
HEAT oven to 325°F.
In a bowl mix graham cracker crumbs, sugar and butter, press onto bottom and slightly up the sides of 10-inch spring-form pan. Bake in oven for 10 minutes.
While crust is baking, make the filling by beating the cream cheese, sugar, vanilla and lemon with electric mixer until smooth and well blended. Add eggs, 1 at a time, mixing at medium speed after each egg is added until all is blended making sure to scrape down the batter with a spatula. Add flour and mix until smooth.
Remove crust from oven, but keep oven on and let the crust cool for 5-10 minutes then pour the filling over crust. Bake for about 50-55 minutes or until cake is cooked but has a slight giggle in the center.
Remove from oven, again keeping oven on and set aside for 5-10 minutes so it cools slightly while you make the sour cream topping. In a small bowl mix the sour cream, sugar, vanilla and lemon. Spoon over the top of the cheesecake and spread evenly. Put cake back in oven and bake for 10 minutes.
Remove from oven and loosen cake from rim of pan with knife. Cool before refrigerating. Cover and refrigerate at least 3 hours or over night.
Before serving, remove rim from pan and plate and slice cake. Garnish each slice with fresh strawberries and a drizzle of strawberry sundae syrup along with some whipped cream.
Cooking Tips:
Wrapping foil around the bottom of the pan helps to keep anything from dripping out while baking.
It is best to store the cheesecake in the spring-form pan until ready to serve. The pan will protect it from getting bumped in the refrigerator.
Slice cake using a hot, wet knife, wiping knife blade clean in between slices.
Store leftover cheesecake in the refrigerator.
Whipped Cream Cheese can be replaced for half of the recipe. I sometimes like to use 2 whipped and 2 regular 8 oz. packages.
Other options for the crust: You can replace the Graham Crackers with Chocolate cookies or vanilla wafer,
If making this recipe for Passover you can use crushed macaroons or crushed matzo for the crust in place of the Graham Crackers. If you need to replace the flour in the recipe you can use potato starch.
I shared my recipe above and it appeared first on BettyCrocker.com
Print