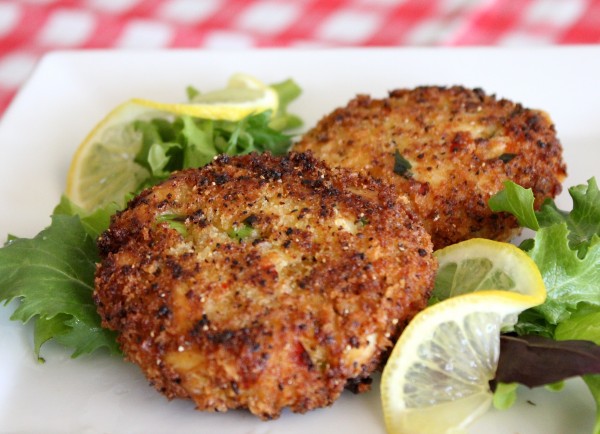 Print
You can make great crab cakes at home! My Ultimate Crab Cake Recipe has a few secret ingredients that make them extra special.
Most of us have had a great crab cake at a restaurant and wished we could make something that good at home. Well my recipe is so good it will rival any great crab cake you have ever had, and it's so easy to make. Simple, fresh ingredients and lots of flavor are packed into these golden pillows. I know if you try them the whole family will love them.  You can do them in the oven if you want to cut out some of the fat so be sure to see my tips below.
Ultimate Crab Cakes
Prep Time: 15 minutes
Start to Finish: 35 minutes
8 servings
Ingredients:
2 tablespoons mayonnaise
2 teaspoons seafood seasoning
2 tablespoons fresh parsley, chopped
1 teaspoon Dijon style mustard
2 eggs, beaten
1/2 red bell pepper, chopped fine
2 medium green onions, chopped fine
1 cup shredded Swiss cheese
1 lb lump crab meat
Salt and pepper to taste
1 1/2 cups Progresso® lemon pepper panko crispy bread crumbs
Directions:
In a large bowl, mix mayo, seafood seasoning, parsley, Dijon-style mustard, egg, red bell pepper, and green onion. Gently mix in the crab and the Swiss cheese, season with salt and pepper.  Shape into 8 patties.
Dip both sides of crab cakes into crumb mixture, and press crumbs into cake with your hands, gently covering the whole patty with the breadcrumbs.
Set aside on cookie sheet lined with wax paper and place in the refrigerator for about 20 minutes before frying.
Fry in vegetable oil until golden brown on both sides, being very careful when flipping.  Serve warm with tartar sauce.
Cooking Tips:
Crab cakes can be made ahead and kept in the refrigerator, covered with plastic wrap until ready to fry.
Crab cakes can also be broiled on a lightly greased baking sheet for 8-10 minutes without turning or until they are golden brown.
I originally developed this recipe for BettyCrocker.com. If you like this recipe, please share it recipe with a friend.  Just click on the cute little icons below this sentence to share these on your Facebook page, twitter page, etc. with just one click!
Print