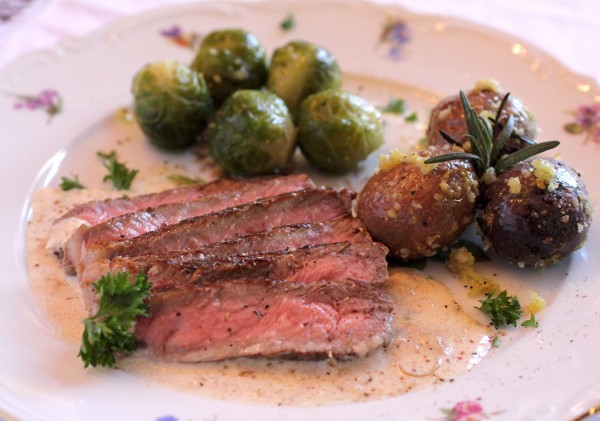 Print
If you have been together with your mate a long time like my husband and I, you know it's important to keep love alive and be intentional about making time for each other. With work, kids dogs and life there is often very little time or energy left for romance. For that reason we think it's important to have date night at least once a month.
Our favorite type of date night is a romantic dinner for two at home. We get rid of the kids for the night and plan a romantic dinner in our home. I take out the nice dishes and glasses, cook a yummy meal and enjoy a glass of wine and quiet conversation. It's a lot less expensive and very relaxing. One of our favorite dinners to make is pan-seared steak with potatoes and vegetables and simple chocolate Ganache with ice-cream for dessert.  Be sure to watch my video to see how fun it can be to have a date night at home.
Check out my video on YouTube for a step by step guide on how to make this delicious meal for you and your love. Just click on the link below.
Pan Seared Rib Eye Steak with Sherry Cream Sauce
Makes 2-4 servings
Ingredients:
2 boneless rib eye steaks, about 1 1/2-inches thick (at room temperature)
Salt and fresh ground black pepper
Directions:
Generously salt and pepper both side of the steak. If using a non-stick skillet you will not need any oil. If not coat the steaks lightly with a tablespoon of vegetable oil.
Heat a 10 to 12-inch skillet over high heat for a minute or two.
Immediately place steak in hot pan. Cook about 1 minute without moving. Turn with tongs and cook another minute, then flip the steaks and cook for about 2 minutes more on each side. This should leave you with a steak that is medium to medium rear. You can cook it longer or shorter depending on how you like your steak.
Remove steak from pan, cover loosely with foil, and rest for 2 minutes while you make your sauce. Use the same pan to make the sherry cream sauce but follow the directions below.
Then serve the steak whole or slice thin and fan onto plate placed over sauce
Sherry Cream Sauce
Ingredients:
3 tablespoons butter
1 shallot, minced
3 tablespoons all-purpose flour
1/2 cup beef broth
1/2 cup dry sherry
1/4 cup heavy whipping cream
Directions:
In a medium skillet, melt butter over medium heat. Add shallots and cook 2 minutes. Add flour and cook, stirring constantly, for 1 minute. Stir in sherry and then beef broth; bring to a boil, reduce heat, season well with salt and pepper and simmer 2-3 minutes. Stir in cream, and simmer 2-3 minutes, or until thickened. Taste to see if it needs more salt and pepper.  Set aside to be served with steak.
Cooking Tips: 
I like to cook a steak at room temperature never ice cold because I find that if you cook it when it is too cold the outside cooks too much and the inside is blood red. I don't like a Black and Blue steak so I prefer to start cooking it after it sits out for about 30-40 minutes. During that time you can add some seasoning so it marinades before you cook it. For this recipe it's just salt and pepper and a little vegetable oil if you aren't using a no stick pan.
Print