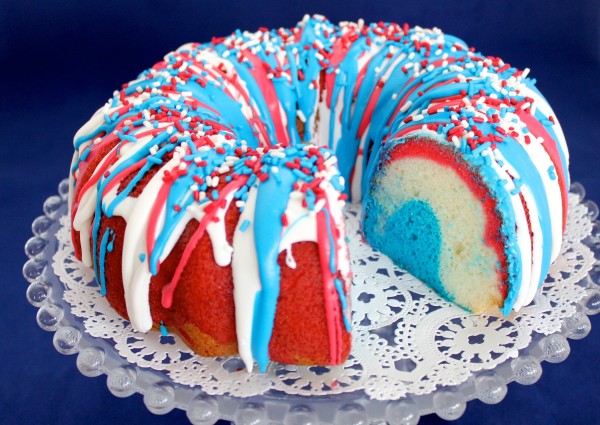 Print
American holidays like the 4th of July and Memorial Day are the perfect time to make easy and delicious red white and blue desserts. My Firecracker Bundt Cake is fun to make and will have everyone wondering how you got all the colors in there.
I originally developed this recipe for Betty Crocker and it has been extremely popular on their site too. The great thing about this cake is the main ingredients are cake mix, frosting and some food coloring. It's the secret tricks in the baking and frosting that make it so beautiful. You want to make sure that you mix your ingredients well with a good mixer. The Bosch Mixer has some of the best mixing abilities for any kitchen mixer.
Ingredients:
1 box Betty Crocker® SuperMoist® white cake mix
Water, vegetable oil and eggs called for on cake mix box
Red food coloring
Blue food coloring
1 (12 oz) can Betty Crocker® Whipped Fluffy White Frosting
Directions:
Heat oven to 325°F. Generously grease a 12-cup tube cake pan. Make cake batter as directed on box. Pour 1 cup of batter into a bowl and add the red food coloring, mix well. Pour another cup of the batter into a bowl and add the blue food coloring, mix well.
Pour the red cake mix into the bottom of the greased pan. Carefully pour the white batter over the red batter in pan.  Then carefully pour the blue batter over the white batter.
The blue batter does not need to cover the white batter completely.  It looks better if it just forms a ring in the center of the white batter.
Bake as directed on box or until toothpick inserted in center comes out clean. Cool 5 minutes. Turn pan upside down onto cooling rack that is placed over a cookie sheet. Cool cake completely, about 30 minutes.
Once cake is cool, equally divide the frosting into 3 bowls. Microwave the white frosting for a few seconds on high until it is smooth enough to drizzle over the cake. With a spoon, drizzle the white frosting back and forth around the whole ring in a striping pattern until you use it all.
Then microwave one of the other bowls. Before drizzling, mix in a few drops of blue food coloring. Then drizzle over the cake, scattering back and forth. Repeat with the red food coloring, making sure you can see the red, white and blue colors. Set cake aside to dry.
Cooking Tips:
When you add the batter, do not mix with a spoon. Just pour it in so the colors don't mix but rather, just rest on top of each other in the pan.
Store loosely covered and unrefrigerated.
Cake can be made a day or two in advance.
The recipe above originally appeared on Betty Crocker.com.  Please share this recipe with a friend.  Just click on the cute little icons below this sentence to share these on your Facebook page, twitter page, etc. with just one click!
Print