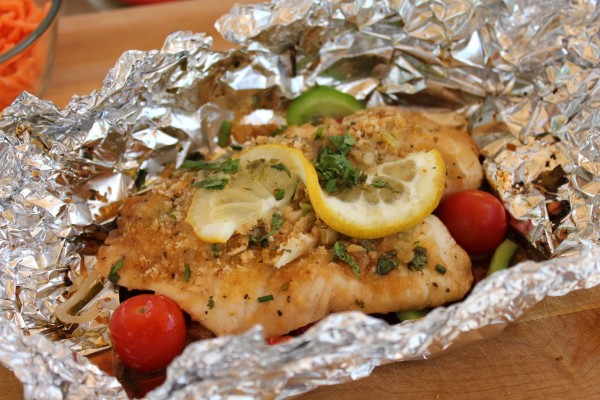 Print
Fresh fish is one of the healthiest things you can eat. Try this fresh fish recipe for a healthy, tasty and fast alternative to your regular routine. You can put all of your own favorite vegetables and your favorite fish right into a foil pouch and grill it, all in less than 15 minutes!
Get the recipe right below the video!

Ingredients:
4 pieces of tilapia
1/2 of a small onion sliced
1 cup of matchstick carrots
1 cup sliced mushrooms
1/2 red bell pepper, sliced thin
1/2 green bell pepper, sliced thin
2 cloves of garlic, chopped
2 green onions, sliced
2 tablespoons fresh cilantro, chopped
2 tablespoons fresh chives, chopped
Juice of one lemon
Juice of one lime
2 tablespoons olive oil
1/4 cup store bought teriyaki marinade (Mr. Yoshida's Sweet Teriyaki is a good one)
2 tablespoons butter
1/4 seasoned panko breadcrumbs
1 tablespoon fresh ginger, chopped
Salt and fresh ground black pepper
Directions:
Preheat grill to about 350 °F
Cut 4 18×18 pieces of heavy-duty tin foil.
Divide the onions, pepper, mushrooms, and carrots evenly and place them in a small pile in the center of the foil pieces. Sprinkle with salt and pepper
Lay one piece of fish over each veggie pile. Sprinkle with salt and pepper then divide the remainder of the ingredients over the top of the fish. Seal each package by bringing the two opposite edges of the foil together and crimping it, but don't press it flat. Leave some room in the top of the foil package so it can steam. Fold the other edge in and up slightly toward the center, so the liquid doesn't leak out and the package is sealed but not flat.
Place foil packages on BBQ for about 12 minutes depending on the size of the filets. You can open one slightly to see if it is cooked. Make sure you don't over cook the fish you can always put it back on the grill if it is undercooked. Another great type of meat you can put on the grill is Filet Mignon, it´s a juicy and flavorful for those meat lovers out there.
Serve and enjoy!
If you like this recipe, please share it recipe with a friend.  Just click on the cute little icons below this sentence to share these on your Facebook page, twitter page, etc. with just one click!
Print