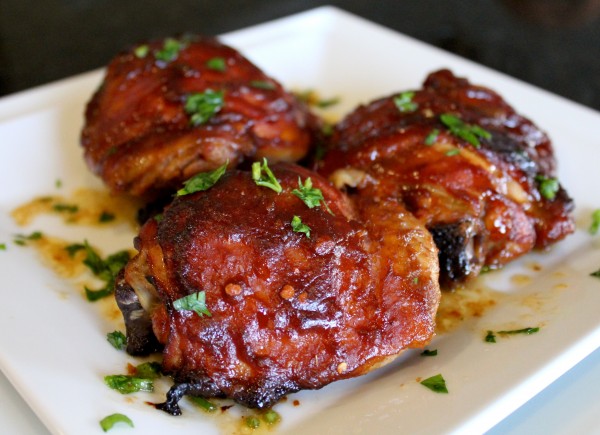 Print
Oven Roasted Chicken with Apple Butter Barbecue Sauce is an easy chicken recipe that a friend recommended to me this summer. I have used Apple Butter in cakes and desserts but never in a BBQ sauce. I took her basic recipe and jazzed it up to make it my own.  I think I came up with an amazing combination of flavors that works so well with chicken. I think it would be great on pork ribs too but I haven't tried it yet.
I know it seems like there are a lot of ingredients, but trust me when I tell you they just get mixed in a bowl and poured over the chicken. It takes no time at all.
The secret ingredient is MUSSELMAN'S Apple Butter. It has a rich spicy apple flavor that gives the chicken great color and sweet taste.
This recipe makes about 3 cups and can be stored covered in the refrigerator for several days.
Ingredients:
For Apple Butter BBQ Sauce
1 (17 oz.) jar of MUSSELMAN'S Apple Butter
1 cup of ketchup
2 tablespoon Dijon mustard
2 tablespoon Worcestershire sauce
1/2 cup apple cider vinegar
2 tablespoons olive oil
3 tablespoon soy sauce
2 cloves of garlic, chopped
1 teaspoon onion powder
1 teaspoon crushed red pepper flakes (optional)
2 teaspoon paprika
1/3 cup brown sugar
For Chicken
10-12 chicken thighs
Salt and fresh ground black pepper
Directions:
Mix all the ingredients for the BBQ sauce in a bowl until completely combined and sauce is smooth.
Season chicken thighs with salt and pepper and place in large zip lock bar with half of the sauce. Refrigerate the other half of the sauce for later. Place chicken in refrigerator to marinade for at least an hour or overnight.
When ready to cook, preheat oven to 450°F oven with rack on the second level from the top. Place chicken on baking pan sprayed with Pam, skin side up uncovered, and roast for about 30 minutes or until chicken is done.
Chicken can also be grilled on an outdoor BBQ.
Once chicken is done remove from oven baste once more with sauce and serve extra sauce on the side.
If you like this recipe, use the nifty share icons below to share it (or print it!)
MUSSELMAN'S was kind enough to send me some of their product free of charge. The opinions expressed in my review and recipe are my own.
Print