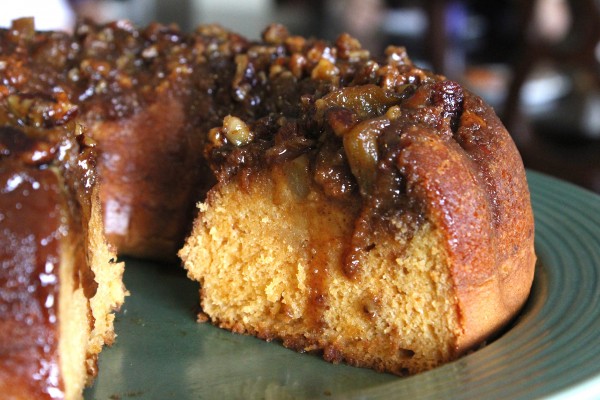 Print
My Apple upside down cake combines the sweet taste of butterscotch with the tart taste of apples that just might make this the best Fall comfort dessert ever.
Apples, butterscotch, nuts and brown sugar served up warm over buttery sweet cake will be sure to make anyone smile. When I make this cake the whole house fills with the warm smells of apples and sugar. The best part of this is like most of my recipes, it's super fast and easy to make. If you do make it be sure and let me know how you like it and as always pass it on to family and friends. I love spreading my kitchen love to others. Enjoy!
Apple Butterscotch Bundt Cake
Prep Time: 15 minutes
Start to Finish: 1 hour and 15 minutes
8 servings
Ingredients:
Base layer
2 small apples, cored, peeled and chopped (about 2 cups)
1/2 stick of butter, melted
1/4 cup brown sugar
1/2 cup butterscotch chips
1/2 cup of chopped pecans
1 teaspoon apple pie spice
Cake Layer
1 box Betty Crocker® SuperMoist® yellow cake mix
1 1/3 cups water
4 large eggs
1 stick of butter, softened
1 (3.4 oz) package butterscotch instant pudding and pie filling
 Directions:
Preheat oven to 325°F. Grease a dark nonstick tube pan (Bundt pan). In a bowl, toss apples, apple pie spice, brown sugar, melted butter, chips and nuts, set aside.
With an electric mixer beat cake mix, water, butter, eggs, and instant pudding, in a large bowl on low speed for 30 seconds then on medium speed for 2 minutes, scraping down the sides of the bowl so the entire mix in mixed evenly.
Pour apple mixture evenly into the bottom of a greased tube pan. Pour cake batter evenly on top.
Place in the middle of a preheated oven and bake for about 50-60 minutes or until cake is golden and springs back when pressed or until a wooden pick inserted in center comes out clean. Run a knife around the rim of the pan to prevent the cake from sticking to the sides. Cool 5-10 minutes; invert onto serving plate.
I originally developed this recipe for BettyCrocker.com. If you like this recipe, please share it with a friend.  Just click on the cute little icons below this sentence to share these on your Facebook page, Pintrest, twitter page, etc. with just one click!
Print