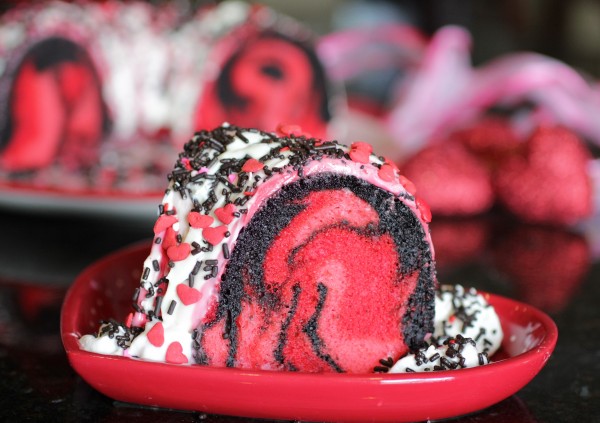 Print
My Rainbow Bundt Cakes have been a fun cake to make for any holiday. They are easy to make because all you basically need is some Cake mix, frosting, food coloring and a tube pan or Bundt pan.
The best part about making this dessert is that it's so fun and easy and it taste great too. Each one becomes a work of art because you never know how it's going to turn out until you slice it. All the colors twist and swirl as it bakes and it creates a fun dessert that everyone loves.
For this Valentine version, I used Red, Pink, Black and White but you can certainly vary the colors and do it any way you like. If you would like to see a video of me making this cake for Halloween. Just go here: http://www.cookingwithsugar.com/amazing-halloween-rainbow-party-bundt-cake-recipe/
Melting Heart Bundt Cake
Ingredients:
1 box Betty Crocker® SuperMoist® white cake mix
Water, vegetable oil and eggs called for on cake mix box
1 box Betty Crocker® SuperMoist® Dark Chocolate cake mix
Water, vegetable oil and eggs called for on cake mix box
Black food coloring (I use the Black McCormick)
Red food coloring (I use the Red McCormick)
1 (12 oz) can Betty Crocker® Whipped Fluffy White Frosting
Colored Sprinkles (optional)
Directions:
Heat oven to 325°F. Generously grease a 12-cup tube (Bundt) cake pan. Make cake batters as directed on boxes. Divide the white cake into two separate bowls.
Add some red food coloring to one bowl and mix to the desired shade of pink.  Then, add red to the other and mix to the desired color red.
Pour 2/3 of the chocolate cake batter into a bowl and mix with a few drops of the black food coloring. Discard the remainder of the batter or use it for cupcakes. (You only need 2/3 of the chocolate cake batter, because if you use the whole thing in won't fit in the tube pan).
Pour 1/2 of the chocolate cake mix into the bottom of the greased pan. Carefully pour the pink over the chocolate, making sure you don't stir it. Just pour it on top.
Then, carefully pour the red batter over the pink batter and pour in the remainder of the chocolate.
Bake as directed on box or until toothpick inserted in center comes out clean. Cool 5 minutes.
Turn pan upside down onto cooling rack that is placed over a cookie sheet. Cool cake completely, about 30 minutes.
Once cake is cool, equally divide your frosting into 3 bowls. Use the food coloring again to make one bowl red, one bowl pink and leave one white.
Microwave each bowl of frosting for a few seconds on high until it is smooth enough to drizzle over the cake. With a spoon, drizzle the pink frosting back and forth around the whole ring in a striping pattern until you use it all. Then do the same with the red and then the white.
Sprinkle with colored sprinkles if using.
Set cake aside to dry. Store loosely covered and unrefrigerated.
Cake can be made a day or two in advance.
Print